An icon of American civil rights, Congressman John Lewis, was the third recipient of the Ivan Allen Jr. Prize for Social Courage presented by the Georgia Institute of Technology on April 4, 2013.
"John Lewis put his life on the line for many years during the 1960s to bring about equality under the law for all Americans. His unflinching civil rights leadership and ongoing advocacy for social change throughout his career have elevated the causes of human rights around the world," said G.P. "Bud" Peterson, president of Georgia Tech. "It is our privilege to honor the life and work of Congressman Lewis through the Ivan Allen Jr. Prize for Social Courage.
Congressman Lewis became known around the world at the age of 25 when he called on President Lyndon Johnson for federal intervention following a brutal attack on peaceful protesters by law enforcement near Selma, Alabama. Lewis' appeal on that "Bloody Sunday," March 7, 1965, turned public opinion against those trying to maintain the old social order of the South and moved President Johnson two days later to present to Congress what would become the Voting Rights Act.
Congressman Lewis is one among us who has had the discipline and tenacity to stand tall, even in the face of physical danger, and he continues the struggle to change the world and make it a better place.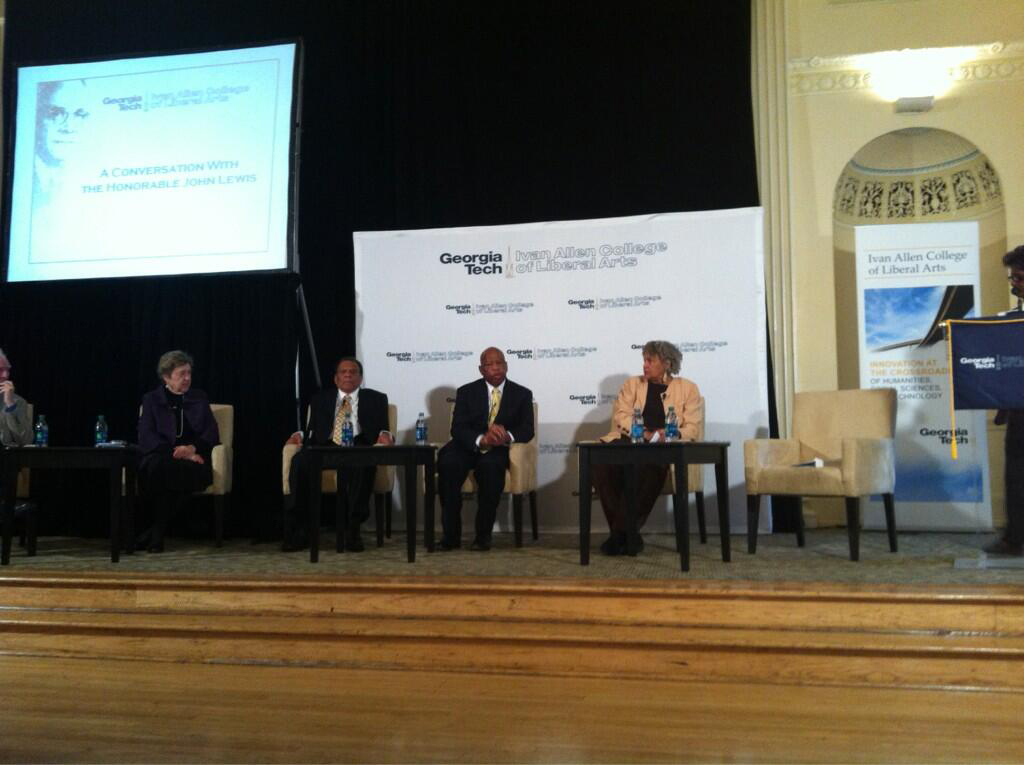 "His courage in the nonviolent movement for civil rights and his ongoing work to build communities of trust provide both a watermark and a signpost in the quest for human rights and human dignity in our world." - Jacqueline J. Royster, dean of the Ivan Allen College of Liberal Arts.
Congressman Lewis was one of the "Big Six" leaders of the Civil Rights Movement. He is the last surviving keynote speaker from the 1963 March on Washington, of which he was a core architect. Lewis' impact on civil rights for African-Americans included advocating desegregation laws and voters' rights. A founding member and president of the Student Nonviolent Coordinating Committee (SNCC), Lewis planned and led many of their activities. His personal courage was first evident when he led student sit-ins that resulted in the public accommodation of African-Americans at Nashville restaurants. He was one of the original 13 Freedom Riders who challenged legally sanctioned segregation on interstate buses. Despite repeated attacks on his dignity, physical beatings, and arrests, Lewis remained staunchly committed to nonviolent work for social change.
Congressman Lewis was elected from Georgia in 1986 and represents the state's Fifth Congressional District including Atlanta and parts of four surrounding counties. He has remained an outspoken advocate for domestic and international social and human rights issues. As recently as 2009, he was arrested at the embassy of Sudan, where he was protesting the obstruction of aid to refugees in Darfur.