2017 Ivan Allen Jr. Prize for Social Courage Recipients:
Former U.S. President Jimmy Carter and Former First Lady Rosalynn Carter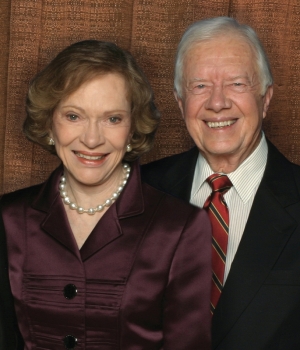 Though they are perhaps best known as the former president and first lady of the United States, Jimmy and Rosalynn Carter's partnership began decades earlier, when the two met in their hometown of Plains, Georgia. Married in 1946, the power of their partnership has sustained them ever since, from their rich family life to their deep religious devotion and their commitment to improving the quality of life at home and across the globe.
James Earl Carter, who attended the Georgia Institute of Technology for one year, entered politics in 1962 as a state senator, and in 1970 was elected governor of Georgia. Six years later, Jimmy Carter became the nation's 39th president. Rosalynn was an integral part of his political successes, campaigning on his behalf and gathering statewide and national support for a then little-known figure in Democratic politics.
From the very beginning, the Carters have worked together, raising four children, running the Carter farm and warehouse business in the 1950s, and serving the state and the nation with a commitment to social justice and human rights. Their shared values and their mutually supportive partnership empowered them to take on some of the great challenges of our time, from mental health, care giving, and homelessness to conflict resolution, voting rights, and disease eradication — both in the U.S. and internationally.
The couple has accomplished much of this work through The Carter Center, a nonpartisan, nonprofit center they founded in Atlanta in 1982. Guided by their visionary leadership, The Carter Center addresses national and international issues of public policy through efforts to mediate conflict, promote democracy, protect human rights, and prevent disease around the world.
For more than 30 years, they have also volunteered at Habitat for Humanity, where they created the Carter Work Project. A weeklong event that takes place each year in a different location, the program serves families in need of safe, affordable housing by providing the people and the tools to build homes.
In 2002, Jimmy Carter was awarded the Nobel Peace Prize in recognition of "decades of untiring effort to find peaceful solutions to international conflicts, to advance democracy and human rights, and to promote economic and social development."
With him every step of the way, year in and year out, has been Rosalynn. They have written books together, supported one another's work and advocacy efforts, served their beloved Maranatha Baptist Church, and to this day continue to share a love of fly-fishing, bird-watching, and biking. ​Together, the Carters' partnership has nurtured their capacity to care and strengthened their resolve — and their courage — to take action.
---